Zeltbahn and Zeltausrüstung
(Tent Quarter and Tent Equipment)
The zeltbahn was a multipurpose piece of equipment that could be used either as a rain cape, as a means of personal camouflage, for camouflaging equipment, and as the means to construct multi-person shelters. In emergencies, it was even prescribed as the basis for a jury-rigged flotation device.

At right, a forward observer uses his Zeltbahn to aid in the camouflage and concealment of his position and equipment.
PREDECESSORS

The Zeltbahn (tent quarter) replaced an earlier square shaped grey-coloured tent quarter
ZELTBAHN
Originally known as the "Warei" pattern, the new Zeltbahn (introduced in 1931) was triangular in shape, measuring 203 cm down two sides and 240-250 cm down the third. The short sides had 12 buttonholes and buttons, for attaching the zeltbahn to other tent quarters. On the base edge were six grommets through which a drawstring was threaded, plus six more buttons and buttonholes, for fastening the zeltbahn closed when worn on the body. Each corner also had a large grommet for tent pegs.
Early patterns were in field grey, but by 1939 the German army camouflage pattern (called "splinter pattern" by collectors) was being used. The material used was cotton gabardine, tightly woven so as to be water repellent. The splinter pattern camouflage was printed in two shades, light and dark, with each side being made from seperate pieces of these two types of camouflage cloth. Late in the war, many tent quarters were manufactured from two pieces of the darker camouflage. There were also reed green and light tan versions for troops in North Africa, though the camouflage zeltbahn used on the continent was also widely used in the tropics.

At right, examples of both the light and dark coloured "splinter pattern" camouflage.

Below, an early field-grey zeltbahn, this example dated 1938.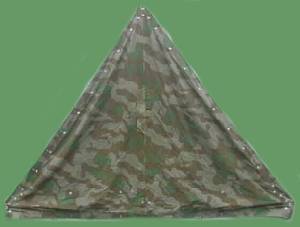 The zeltbahn used dished metal buttons, with reinforced button holes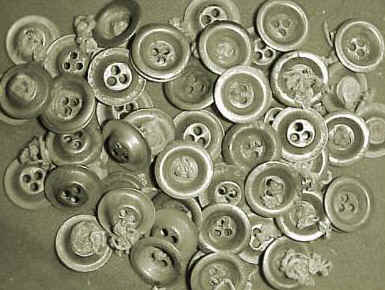 .
PONCHO

There were three officially prescribed methods of wearing the Zeltbahn as a poncho for mounted, bicycle mounted, and dismounted troops. The zeltbahn was constructed with a slit in the middle for the wearer's head; early models had a matching detachable hood but this was not widely issued and quickly deleted. The zeltbahn was known as a Regenmantel (rain cape) when used in this manner.

Dismounted troops secured the rain cape across the front of the body, while horse mounted troops left the zeltbahn loose. Bicycle troops secured the edges of the zeltbahn around each leg. (Illustrations from wartime manual.)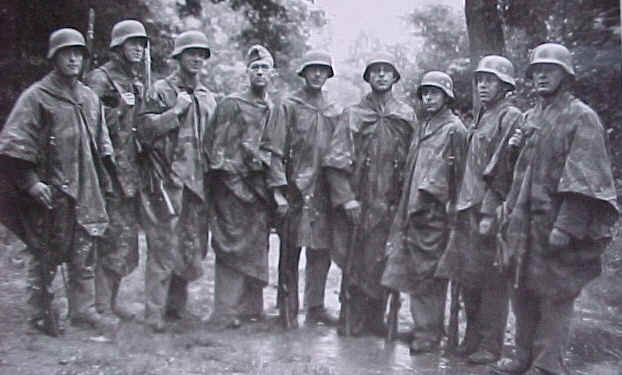 TENT EQUIPMENT
Each German soldier was also issued a set of tent equipment (Zeltausrüstung), including:
Zeltleine: a black-coloured two metre tent rope
Zeltstod: a four section wooden tent pole (each section was 37 cm long, with a metal ring on one end that allowed the wooden (male) end of another peg to fit inside it),
Zeltpflöde: two tent stakes, of light alloy, steel or phenolic-resin treated wood. These had an eyelet at one end through which a rope or cord could be looped, aiding in extracting the tent peg from the ground.
This was all carried inside a tent accessories pouch (Zeltzubehörtasche). These pouches, in gabardine or light canvas, were constructed from a variety of materials, including splinter pattern camouflage, grey, field grey, olive green, reed green (for tropical issue), brown or tan cloth. They were closed by either one or two buttons, and some early examples had leather straps on one edge for attaching other equipment. Other variants lacked these straps, while some had leather loops for securing equipment in their place.
| | |
| --- | --- |
| When not in use the zeltbahn was usually rolled and fitted to the equipment by means of two leather equipment straps. The zeltbahn was also sometimes seen attached to the D rings of the "Y" straps, or to the back of the belt. While usually not carried when in direct contact, the other tent equipment was designed to be attached directly to the A-Frame of the combat pack. Other (non-infantry) soldiers would have kept the tent equipment with their field packs. At right can be seen a folded Zeltbahn with the standard equipment straps; they secured closed with metal buckles, and could be attached to equipment with press studs, as seen on the strap at left. | |
TENTS

There were standard designs for creating four, eight and sixteen man tents from the tent quarter. Four men could combine their tent equipment to make a comfortable and rainproof shelter for themselves. These tents were not constructed in the front lines, naturally, though the zeltbahns were used for camouflage and for such purposes as covering the doorways of bunkers.

At right, a typical four man tent - note the early field grey zeltbahn buttoned to the camouflaged zeltbahn.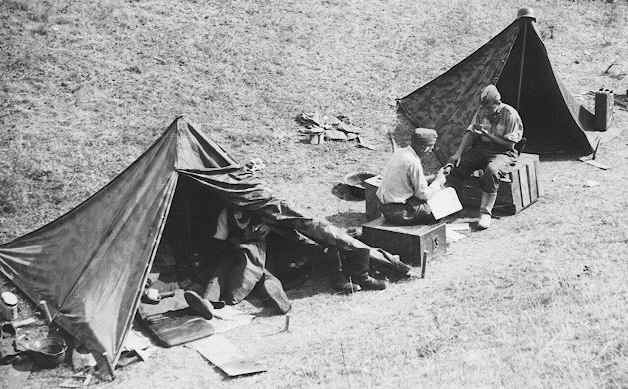 The troops above have constructed typical four man tents; a common touch was the addition of a steel helmet to the top of the pole, or as below, more than one helmet.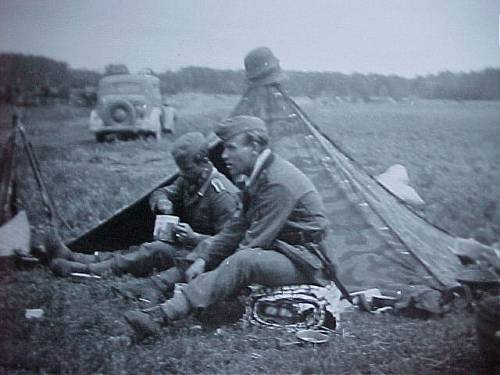 Below is a larger tent constructed from several tent quarters.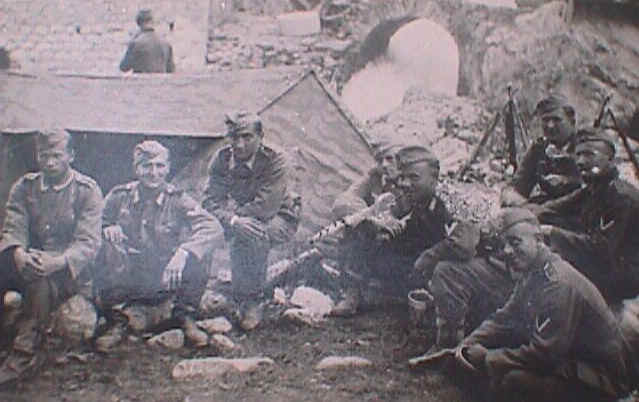 A manual printed for Zeltbahn users illustrated many different styles of tent; the Hauszelt could be constructed from 16 tent quarters and could house 16 men..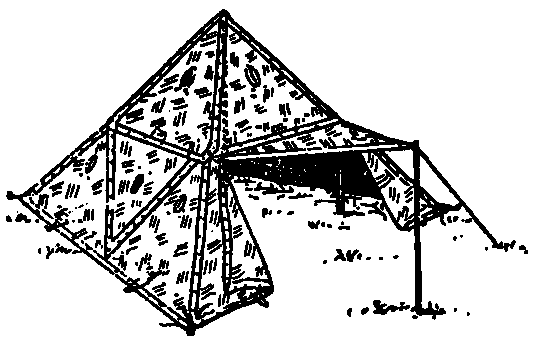 OTHER USES
It was also possible to fashion a flotation device from the Zeltbahn. The prescribed method was to join two tent quarters together, fill them with cut limbs or straw, and tightly bundle them. Other uses, according to the manual, included as a body sling (to carry a wounded comrade on one's back) or to aid in the construction of makeshift litters.
Severe shortages of tent quarters in 1944 led to severe restrictions on the issue of this popular item, and limited use was made of captured shelter quarters/shelter halves/raincapes, especially of Russian origin.
OTHER TENTS
There were, of course, large purpose-built tents of varying designs and materials, used to house headquarters, medical units, etc.