At the opening of the 20th Century, the major European armies were still clad in the traditionally bright coloured uniforms that had been developed between the Middle Ages and the end of the 19th Century. By the end of the First World War, however, British scarlet tunics had given way to khaki, as had Belgian black; French red pants had given way to the more neutral horizon-blue, and the German Army had firmly established its soldiers in Feldgrau (field grey) - actually a warm shade of green.
The German Army went through many uniform styles during the First World War, and these served as the model for further development between the wars. By 1939, two major types of dress uniform were prevalent, and the Feldbluse (Field Blouse) was firmly established as field wear.
Dienstrock The Dienstrock was Introduced for wear in the Reichswehr during the short lived Weimar era. Replaced by the Feldbluse in 1935, it was given (like many uniform components) an unspecified wearing out period, though it was restricted to walking out and dress wear rather than field wear.

This was a high quality garment made of fine gabardine wool in blue-grey.

Front Closure: 8 button front

Collar: Dark green (NCO tress on top and front)

Pockets: Two breast pockets with box pleats and scalloped flaps. Lower diagonal slit pockets with external buttoned down scalloped flap.

Cuffs: French cuffs

Rear Vent: Reverse tail skirt vent with two belt ramp style buttons to top.

Buttons: Pebbled aluminum.

Piping: Tunic front.

Interior: Fully lined in rayon, with suit-lining in sleeves. Lining has a vertical slash pocket to left breast and two vertical slash pockets at tail skirt vent. Lining also has a horizontal slash to reverse of left hip pocket for dagger/sword hanger.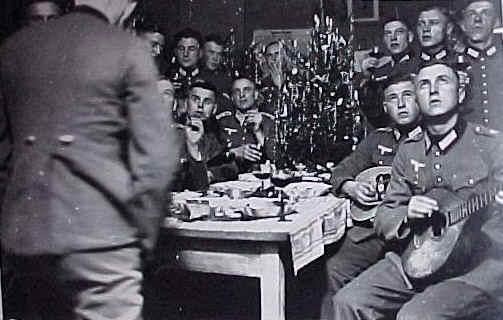 Waffenrock The Waffenrock (also called the Kaiser Wilhelm Memorial Tunic) was introduced on 29 June 1935 for walking out and parade dress. The tunic was in high quality blue-grey gabardine wool.

Front Closure: 8 button front

Collar: Dark green (NCO tress on top and front)

Pockets: No external pockets.

Cuffs: Swedish cuffs in dark green, with false waffenfarbe cuff patches and buttons.
Rear Vent: Tail skirt vent with scalloped piping on either side, with three buttons as well as, two belt ramp style buttons (to support the waistbelt).

Buttons: Pebbled aluminum.

Piping: Tunic front, collar bottom, and cuff tops, as well as on either side of tail skirt slash.

Interior: Lining has one horizontal slash left breast pocket and two vertical slash tail skirt pockets.

At right - a damaged print, but one showing the classic details of the waffenrock. This young soldier appears to be from a Machine gun unit, with white piping on his uniform and an "M" cypher on the shoulder strap. The jacket appears poorly fitted, with the material bunched under the arm and front of the jacket also bunched.
Cuff patches from a waffenrock; similar to the collar tabs, the cuff patches were of uniform cloth in the wearer's waffenfarbe, with shiny aluminum braid. The button was not functional and did not secure the cuffs, which were in reality sewn shut. The cuff patches and buttons emulated earlier style uniforms from previous centuries on which the cuffs, lapels and tunic skirts could be worn either open or closed, revealing the interior, or "facing" of the uniform.