Officers (or officials with officer-equivalent rank) and Generals had authorized rank pennants; until April 1941, this pennant was as shown at right; a grey pennant with white border and national emblem. In April 1941, generals received their own pennant, with a more elaborate gold border replacing the white border, and a gold eagle replacing the white eagle.

Command pennants were carried on the left (driver) side of the vehicle, and officer pennants on the right (passenger) side.

The pennants were covered with cloth covers when the officer was not actually using the vehicle.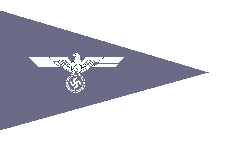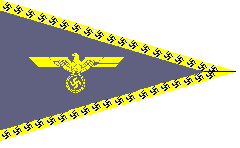 Units of battalion, regiment or brigade size were designated by a flag bearing the Waffenfarbe, or arm of service colour, associated with that unit. Grossdeutschland's command vehicles would thus have been marked by a unit pennant in white. Upon expansion to divisional status, GD panzer battalions would have used rosa (pink), artillery red, signals lemon yellow, pioneers black, reconnaissance golden yellow, and the infantry (later panzergrenadier and panzerfüsilier) regiments retained white.
Harkos

The term Harko (Höherer Artillerie Kommadeur - Higher Artillery Commander) designated both an officer and a headquarters unit that co-ordinated all the artillery units within an Army. The pennant at right, authorized in October 1943, was used to designate these officers/units.

---
Panzer Groups

During the invasion of France, two formations named for their commanders, Panzer Group von Kleist and Panzer Group Guderian, wore capital letters denoting these designations on their vehicles as an additional form of identification. After the invasion of Russia, other formations sometimes wore similar unofficial markings.

Panzer Groups were again designated for Barbarossa; Panzer Groups were eventually designated Panzer Armies.

G
K
---

Number Plates

German soft-skin vehicles and armoured cars or APCs were given individual number plates, at first painted on metal signs and attached, but increasingly painted on the vehicle itself as the war progressed. The plates were white, being rectangular on the front of vehicles and square on the rear, sometimes with two used on front and/or rear instead of a single plate. Motorcycles had smaller plates, with the front plate being curved to fit the contour of the fender. Numbers were issued from a series, and a prefix identifed the branch of service. Unit identification was often indictated by the use of a Feldpost stamp on the plate, bearing the unique numerical designator for that unit as assigned by the army post office. These numbers were assigned at battalion and sometimes company/battery/squadron level.

| | |
| --- | --- |
| WH | Wehrmacht - Heer |
| WL | Wehrmacht - Luftwaffe |
| | Waffen SS |
---
Vehicle Numbers
As an aid to operating in formation, a system of vehicle numbers was developed for German tanks (that was also used on armoured cars, armoured personnel carriers and self-propelled weapons). These numbers were painted on turret and hull sides, in the main, and the style of numbers used changed throughout the war.
In general, the system involved use of 3 digits numbers; the first digit indicating the Company the tank belonged to, the second the Platoon, and the third the vehicle's position within the platoon. Some panzer divisions and units used variations, such as one or two digit numbers, specifiying only individual tanks or platoon/tank combinations.
A typical tank company would thus appear as:
| | | | | | |
| --- | --- | --- | --- | --- | --- |
| THIRD COMPANY | 1st Vehicle | 2nd Vehicle | 3rd Vehicle | 4th Vehicle | 5th Vehicle |
| First Platoon | 311 | 312 | 313 | 314 | 315 |
| Second Platoon | 321 | 322 | 323 | 324 | 325 |
| Third Platoon | 331 | 332 | 333 | 334 | 335 |
| Fourth Platoon | 341 | 342 | 343 | 344 | 345 |
Company command vehicles would have a second digit of 0 to indicate headquarters.
Battalion command vehicles would have a Roman numeral designating the battalion. The commander of the first battalion of a panzer regiment might thus have tank I 01. The second battalion commander would have II 01, etc. Other officers were designated with higher numbers; in general vehicle 02 designated the executive officer, 03 the signals officer and 04 the ordnance officer of that battalion.
Regimental command vehicles had an R instead of the Roman numeral to indicate a staff vehicle. R01 was the regiment commander, R02 the executive officer, R03 the regimental signals officer, and higher numbers designated other staff officers.
Some battalions and regiments used non standard numbers. Other units avoided the use of the R, as it gave away the status of the officer commanding the tank. Instead, "fake" company numbers, referring to companies that did not exist in a panzer regiment (for example, the 9th company) were used, as was the number 0 (ie 001, 002, etc.)
---
Divisional and Regimental Markings
The unit listing pages on this site will show the divisional markings carried on unit vehicles; some regiments adopted special markings also (especially panzer regiments), and independent units like heavy tank battalions or Assault Gun detachments also wore special insignia. These markings could be found on all manner of vehicles, including tanks, halftracks, trucks, motorcycles, even horse drawn field kitchens were found to be marked with divisional markings.