Marksmanship Lanyards
Schützen Abzeichen
| | | |
| --- | --- | --- |
| | Marksmanship lanyards (Schützen Abzeichen) were constructed of aluminum braid, bearing a metal plaque, and were worn on the uniform tunic or field blouse when in dress uniform, for parades or other ceremonies, or for walking out. They were only worn by Enlisted Men and not by officers, and were intended to promote interest in marksmanship, as well as reward those who demonstrated skill with different infantry weapons. | |
The lanyards were introduced in June 1936. They were attached to the uniform by means of securing the cloth loops on each end of the lanyard to two buttons; the end of the lanyard on which the plaque was mounted had its loop secured to a small button sewn under the shoulder strap, near the shoulder. The other end of the lanyard had a loop which attached to the second button on the tunic or blouse front (and was secured before the tunic was closed, hiding the loop).

EARLY PATTERNS

The earliest patterns of lanyard plaque had two types of plaque; the first was a simple shield bearing the Wehrmachtadler (Armed Forces eagle) in white metal. Successive awards of the lanyard were marked by the additions of silver-coloured acorns (or, for artillery troops, miniature shells) at the tail end of the lanyard.
| | |
| --- | --- |
| The second type of plaque had a white metal shield with crossed swords, as well as a full wreath with oakleaves and acorns and this pattern, in conjunction with acorns (or shells), was used for the 5th through 8th award. | |
For the 9th to 12th award, the same pattern plaque as for 5-8 was used, but in gilt (as were the slides and acorns or shells).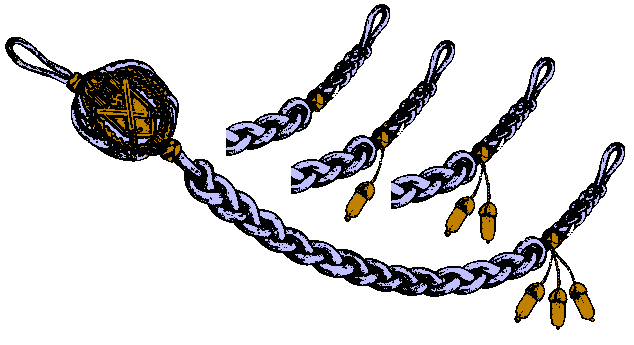 | | |
| --- | --- |
| The marksmanship lanyard was worn on the fieldblouse as well as on the Waffenrock or dress tunic. An early pattern plaque can be seen in the studio photo at right, this photo is further evidence that the original intention to have the black AFV uniform as a "field only" garment was often ignored. | |
| | |
| --- | --- |
| On this sample Waffenrock (below and right), it is clear that a button was never sewn to the uniform cloth underneath the shoulder strap. Instead, this marksmanship lanyard has had its upper loop wrapped around the prongs securing one of the NCO rank stars to the strap. | |
CHANGES
Prior to 1939, a new plaque was introduced to replace the plaque for levels 1-4; a similar design to that used for groups 5-12 was used, with a wreath of oak leaves (lacking acorns) was used.
Below, from left to right, are:
Old pattern plaque for Groups 1 to 4
Old pattern plaque for Groups 5-8 (in aluminum) and 9-12 (in gilt). This plaque remained unchanged.
New pattern plaque for Groups 1 to 4, replacing the shield shown at left. Note the differences between the latter two types; there are different styles of handgrips on the swords, and the new pattern plaque at right also has an oakleaf wreath without acorns. The plaque at right has not been mounted on a lanyard; note the prongs.
| | |
| --- | --- |
| Two new designs of plaque were also introduced for wear by armoured troops; the design was similar to the wreath and swords, with the sword replaced by a panzer. They also came in two similar patterns, with the second pattern being in both aluminum for groups 5-8, and gilt for groups 9-12. Like artillery troops, panzer troops also wore miniature cannon shells rather than acorns to indicate higher awards. | |