Wartime Changes
There were minor changes to the production methods of the M35 helmet during the early war years, including the method of supplying the helmet with ventilation holes and the type of steel used in the construction. The most visible outward change was the deletion of the tricolour decal on new production helmets beginning in March 1940. The helmet continued to be produced with the Army insignia on the left hand side, however.
In 1942, helmet manufacturers stopped rolling the edge of the rim on helmets (save for one firm which continued producing rolled rims until 1944) as an economy measure. The first helmets to be produced in this manner were assember in August 1942, and are referred to today as M1942 or M42 helmets. By 1944 the use of the Army decal on new production helmets officially ceased, however some helmets retained the decals until the end of the war. By 1942 also, the colour of helmets had switched to medium or darker field grey, and rougher finishes were the norm.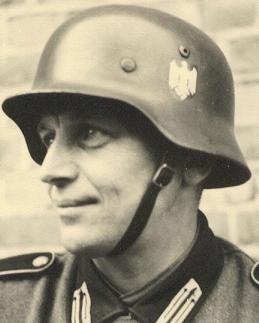 The black chinstrap with metal buckle was the most common fastening device, though there were many variations on both the type of leather and the type of buckle used. Regulation called for the buckle to be on the wearer's left hand side, as shown above.